No-Frills Lead Generation and Profiling Services
for major markets in North America
No rocket science approach
Just the right leads you need
Sales-Ready and Well-Profiled Leads
So you can concentrate on what you do best - close deals!
allow you to grow your business exponentially
and expand opportunities beyond your current scope.
Our Prospecting capability goes beyond uncharted industries to further increase your clientbase.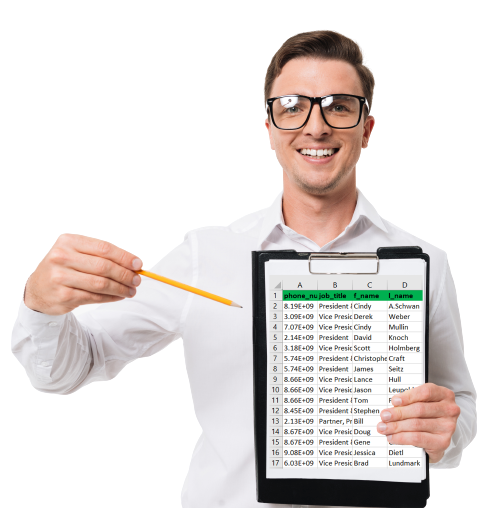 Data and only data that spell business for you. From profiling your target audience, market research and testing your uptapped markets to gathering specific information about your prospects.
Targeted – that's how we simply describe our lead generation solution. We painstakingly dive into your parameters to sift just the right prospects to your sale pipeline. Combining voice and non-voice components, we expertly handle this rigorous task on your behalf.
Let OnPoint Prospecting Inc fill your calendar with solid and highly qualified meetings, be it phone, in person, or via web demo. We truly value your time so we only focus on setting up meetings with prospects that have higher chances of conversion.
OnPointers
(Profilers and Callers)
On Point Data And Leads Services
We truly live by our name so you can only expect leads and data that are healthy to your sales funnel and in turn enables you to shorten your sales cycle and return on investment. The key to a well profiled leads has always been based on how you laid your parameters and how well profilers know your industry. Utilizing the right approach accustomed to your target industry can exponentially increase conversion in return.
Heterogeneous Marketing Approach
Ensuring higher contact rate, better conversion and as much as possible, sales-ready prospects, our multi-solution marketing approach has opened up so much opportunties for our clients. Marketing solutions have to move with times to be relevant and effective that is why OnPoint Prospecting has devised
this blended approach towards contacting potential customers.
We can only attribute our high client retention rate to the quality of service we provide to clients in major industry across the globe – be it profiled data, pure leads or prequalified meetings. Our mantra revolves around partnering with clients to develop business for them first and nothing is more apparent than the commitment that we get from our clients to continuously use our high-yield marketing and prospecting solutions.
Sta. Ana Avenue
Davao City, Philippines 8000
 +1 617 963 0228
Sharp profiling.
Always OnPoint.
OnPoint Prospecting Inc is a fast-growing BPO firm based in the Philippines that offers no-frills B2B Data, lead generation, and appointment setting solutions to clients across major industries in North America and other English speaking countries around the world.
Copyright © 2020 OnPoint Prospecting Inc. All rights reserved. Privacy & Legal Policies | Cookie Preferences